You have entered the novelists' wing of the Manor of Whispering Doors. You hesitate. There is nobody here. Should you call? Suddenly, a whisper. You strain your ears and hear a female voice: "Come on, come closer! It's coming from somewhere on your right. You take about ten steps in that direction, but there are no sounds to be heard anymore. Who spoke ? An author ? Some more whispers. Your heart starts beating faster. In spite of yourself, you advance towards the first door and stick your ear against the door… Your head goes through the wood. You cry out and step back. It takes a few seconds for you to recover. Surely there is a logical explanation. And the first idea that comes to your mind is that this is an illusion. The door does not exist. You hold out your hand. It effectively crosses the fictitious obstacle. But before you withdraw it, someone grabs your wrist and pulls you forward. You try to resist. In vain. Whoever is holding you is stronger. You dive into the unknown …

No one is in the room. Yet you didn't dream. Someone has grabbed your wrist to force you in… You look around. You are in an office. A window is opened and some sheets of paper fly to the ground. One of them falls at your feet. You pick it up. It is written: « Elaine DAHL – Les Gens de Roquebrune – Tome 1. Galien ». You step forward and grab another sheet. This is the beginning of a story. You start to read: « His brother, dead; his younger sister, missing. And he wasn't there … If you had been there, a small voice whispered to him, you would have died too. It was probably true. The doubt would remain however and would be enough to fuel his feeling of guilt for a long time. Of that, Galien was certain… »

Automatically, you pick up more pages and get closer to the desk. You are about to sit down, when you feel something resting on your shoulder. A hand…
Elaine DAHL - Les Gens de Roquebrune – Tome 1 . Galien (French)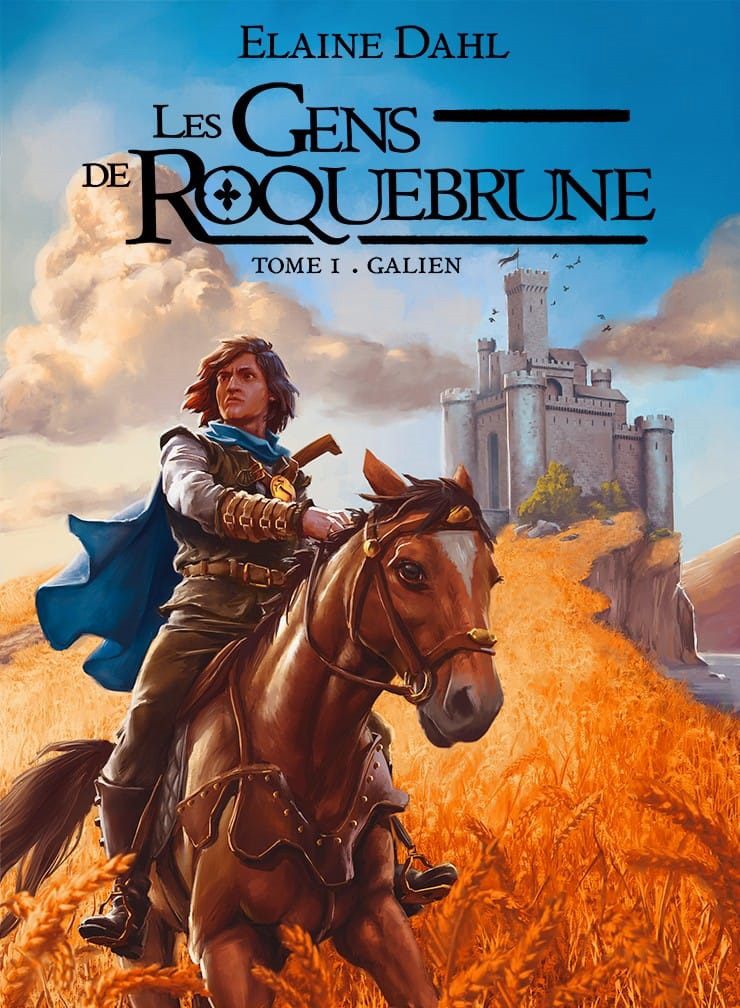 Des meurtres,
Un complot,
De la magie…

Les guerres contre le voisin krell ne sont plus qu'un lointain souvenir pour les habitants du royaume de Cyrénie. Au manoir de Roquebrune, les jours s'écoulent paisiblement. Le comte dirige le domaine et ses gens avec une autorité bienveillante, laissant Galien mener une vie insouciante et libre. Aélis, en revanche, se voit imposer un mariage dont elle ne veut pas. Initiée à la magie divinatoire par sa tante, la jeune fille délivre un funeste oracle à sa famille. Personne ne la croit, et pourtant… … Le comte meurt. De fidèles serviteurs sont tués. Aélis s'est volatilisée. Galien se lance dans une quête pour retrouver sa sœur et venger les disparus. Avec le soutien d'amis et d'alliés inattendus, il devra déjouer les nombreuses embûches qui jalonneront son chemin. Car de sa réussite dépend le destin des gens de Roquebrune.
Prologue

Par un beau matin du mois d'avril, Baudoin prit la mer à la tête d'une flotte de trois navires. Posté sur le gaillard d'arrière de L'Éole, un cent-vingt tonneaux flambant neuf, il regardait le port de Cyrène s'éloigner lentement. Reverrait-il un jour la terre qui l'avait vu naître ? C'était peu probable. Il partait sur ordre de son frère, le roi, en quête de nouveaux territoires à conquérir. Quoi de plus exaltant ? Sauf qu'en l'envoyant au loin, le souverain escomptait ne plus jamais le revoir.
Qu'importe, décida-t-il, l'aventure mérite d'être vécue !
Il se tourna résolument vers l'océan…
Lorsqu'ils atteignirent le rivage, les trois bateaux étaient dans un bien piteux état. L'équipage et les passagers ne valaient guère mieux.
Ils avaient navigué longtemps, par beau temps et par grosse mer. Ils avaient navigué jusqu'à dépasser les limites connues de l'océan. Jusqu'à ce que les vivres et l'eau commencent à manquer, et longtemps après encore. Le même désert salé s'ouvrait toujours devant eux. L'horizon était toujours aussi lointain et plat. « Il faudrait faire demi-tour », murmuraient certains. « Nous sommes maudits ! » chuchotaient d'autres. Baudoin avait élevé la voix pour les faire taire. Pourtant, il n'était pas loin de penser la même chose. Tous, lui y compris, n'étaient plus que des spectres au regard éteint. Ils se déplaçaient en chancelant, les matelots ne réalisant les manoeuvres qu'au prix d'un effort surhumain. Parfois, l'un d'eux croyait apercevoir un îlot se détachant sur le bleu de la mer. Il abandonnait son poste et se jetait contre le bastingage le doigt tendu : « Là-bas ! À tribord ! » Mais ce n'était qu'un mirage. Et la douloureuse et vaine attente reprenait. Hélios ne les épargnait pas, qui dardait chaque jour ses rayons brûlants sur leurs membres décharnés. Par chance, les nuits étaient fraîches sans être froides. Il y eut les premiers morts parmi les passagers logés dans la cale. Puis des membres d'équipage succombèrent à leur tour. Un soir, à bout de force et de courage, Baudoin se jeta à genoux sur le pont. Il tourna son visage pâle et bouffi vers Séléné, la déesse de la lune, et la pria d'intercéder auprès de Zéphyr afin qu'il les pousse de son souffle vers un rivage hospitalier. Quand, au matin, dans un cri enroué tomba de la hune le mot : « Terre ! », il sut qu'il avait été entendu.
De hautes falaises leur faisaient face. Ils les longèrent jusqu'à ce que le relief s'aplanisse et qu'ils découvrent une large baie dans laquelle se jetait une rivière. Au-delà de la plage de galets, ils apercevaient des prairies et une forêt. L'endroit leur parut idéal pour débarquer.
À peine les canots tirés sur la grève, ils se précipitèrent vers le cours d'eau et se laissèrent tomber sur la rive. Ils burent jusqu'à plus soif, riant, s'éclaboussant. Ils avaient retrouvé leur bonne humeur. Sous les ordres de leur chef, ils installèrent leur campement non loin de là, dans les terres. Ils ne tarderaient pas à découvrir qu'elles étaient riches de gibier, mais aussi de plantes et de fruits comestibles.
Le temps clément qui régnait favorisa le travail des bûcherons et des charpentiers. Bientôt, un baraquement de bois s'éleva au centre du camp. En moins d'un mois, d'autres l'encerclaient, parmi lesquels un lieu de culte dédié à leurs dieux majeurs : Hélios et Séléné. La construction de ce qui était à présent un village se termina par l'édification d'une haute palissade. Baudoin se méfiait non pas des indigènes — ils n'en avaient vu aucun —, mais des bêtes sauvages qui rôdaient la nuit, quand tout dormait.
La lourde porte de l'enceinte à peine refermée, on célébra l'achèvement des travaux. Les colons rendirent grâce à Zéphyr de les avoir conduits là. En son honneur, ils baptisèrent leur village Zéphyria. Et, pour ne jamais oublier d'où ils venaient, ils nommèrent leur terre d'adoption la Cyrénie.
Peu après, deux navires reprirent la mer. Si les dieux le voulaient, de nombreux autres reviendraient prochainement, amenant de nouvelles familles…
Elaine Dahl was born somewhere many years ago. She lives far from the city in a place that fills her imagination. At a young age, Elaine devours all kinds of novels when she discovers her favorite genres: fantasy literature and science fiction. She enters the world of fantasy with "The Lord of the Rings" by JRR Tolkien. A door opened itself, it will never be closed …
However, reading is not writing. And it wasn't until years later that Elaine decided to enroll in a writing workshop. From then on, she composed poems that she brought together in a collection: "Au fil des saisons et du temps" (Édilivre, 2013). She writes short stories, one of which is selected and appears in a Quebec fanzine: "Mortelle angoisse" (Horrifique n ° 89, 2013). She published her first fantasy novel: "Les Peuples Oubliés" (Les Éditions Numeriklivres, 2016).
We will soon publish a one volume new edition of "Les Peuples Oubliés", but until then, you can discover volume 1 of his new novel: "Les Gens de Roquebrune".
| | |
| --- | --- |
| Genre | Medieval Fantasy Novel |
| Language | French |
| Biding | Softcover |
| Publication date | 29/03/2021 |
| Publisher | Elaine DAHL / WhisperingDoors |
| Author | Elaine DAHL |
| Illustrator | Thomas VERGUET |
| ISBN-13 | 978-2-9576417-0-3 |
| Pages | 434 |
| Dimensions | 21 cm x 14,8 cm |